High Acceleration Shock Test System
Shock test is used to accurately measure the product fragility and evaluate the protective ability of product packaging.Regardless whether you want to do a boundary assessment on complete product breakage, industrial standard shock pulse or company's internal standards, we can provide the most advanced shock test systems to meet your application requirements.
Shock test suitable for aviation, aerospace, marine, military, consumer electronics, automobiles, home appliances and display devices.
Applicable Standards: GB/T2423-2008, GJB1217, GJB360.23, GJB150, GJB548, MIL-STD-202F, IEC-68-2-27, MIL-STD-883E, MIL-STD-810F, ISTA, UL.
Model

HSKT10

HSKT30

USKT30

Table Size(mm)

200*250

300*300

300*300

Max. Payload(kg)

10

30

30

Shock Pulse

Half Sine Wave

Acceleration Range(G)

20~2000(bare table)

20~1500(bare table)

20~10000(bare table)

Pulse Duration(ms)

0.2~18

0.5~30

0.2~18

Max. Drop Height(mm)

1500

1200

1200

Machine Dimension(mm)

660*700*2380/1900

7200*680*1890

1350*1250*3300

Power Supply

AC220 50Hz 5A, Compressed Air: more than 0.5Mpa

AC380 50Hz 5A, Compressed Air: more than 0.5Mpa

Machine Weight(kg)

820

650

1850
Cases
Packing and shipping
Certification
Cases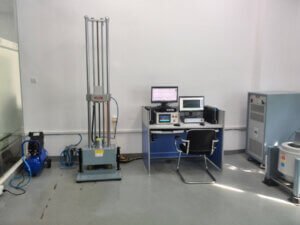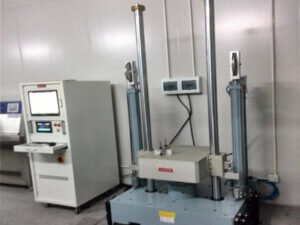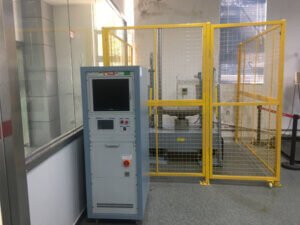 Packing and shipping
Certification
When a fault report received from customer (including telephone, message and email) LABTONE will respond within 4-8 hours (working time), provide solutions and eliminate fault within 12-24 hours. After the equipment guarantee period ended, supplier still has obligation to provide users with technical support and after-sales service.
Ttechnical consultation: test method, laboratory planning and suggestion.
Equipment selection:selection scheme,FAQ.
Product testing scheme.
Customer communication and progress report.
Guidance for pre-installation preparation, equipment commissioning and test run.
Calibration (when third party's verification is required).
Technical training:operation of equipment,daily maintenance,common fault diagonsis and troubleshooting.
Scheduled on-site service:detection of problem as soon as possible in order to eliminate equipment and anthropogenic hazards.This is to ensure long term and stable equipment operation as well as delivery of latest technical information.
Technical support:special paid services are provided according to customer's needs.
Select a suitable shock test system